Hvis du kommer til London, så slå et slag forbi Imperial War Museum – det er helt enestående.
En af udstillingerne handler om Victoria Cross, den højeste britiske militære udmærkelse for ekstraordinært mod. Der er uddelt i alt 1355 VC siden stiftelsen, og denne udstilling nævnte nogle af modtagerne.
En af dem var danskeren Thomas Dinesen – som mange nok ikke ved var Karen Blixens bror.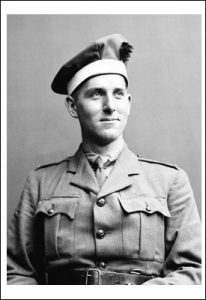 Han deltog i 1. verdenskrig for de canadiske styrker. Han havde forgæves forsøgt at blive indlemmet i de britiske og franske styrker og tog i frustration til USA, hvor han også blev afvist men henvist til et canadisk hyringskontor.
Thomas Dinesen var ikke idealist. Som han selv sagde:
"I did not want to join for the sake of ideals; I simply wanted to fight because I love new experiences, danger, the deed."
Han var tilsyneladende frygtløs på slagmarken og hans forklaring på det lød:
"When I was sent to the front I did not expect to come back and I shook of the fear of death by looking death squarely in the face."
"When you once say, 'I know you will get me and I don't care' you are free."
Hans beskrivelse af kampånden lød sådan:
"One's love of mankind and respect for human life count as nothing when up against the fighting instinct of desiring to conquer and kill an enemy."
[ London Gazette, 26 October 1918 ], Parvillers, France, 12 August 1918, 2075467 Private Thomas Dinesen, 42nd Bn, Quebec Regiment ( Royal Highlanders of Canada ), Canadian Expeditionary Force.
"For most conspicuous bravery and continuous bravery ( Parvillers, France ) displayed during ten hours of hand-to-hand fighting, which resulted in the capture of over a mile of strongly garrisoned and stubbornly defended enemy trenches. Five times in succession he rushed forward alone, and single-handed put hostile machine guns out of action, accounting for twelve of the enemy with bomb and bayonet. His sustained valour and resourcefulness inspired his comrades at a very critical stage of the action, and were an example to all."
Thomas Dinesen, der døde så sent som i 1979, skrev bogen Merry Hell on sine oplevelser. Kan købes på Amazon.
I årene efter 1. verdenskrig besøgte han på et tidspunkt familien Lassen, hvor en dreng meget interesseret lyttede til hans beskrivelser af oplevelserne under krigen. Denne dreng hed Anders Frederik Emil Victor Schau Lassen.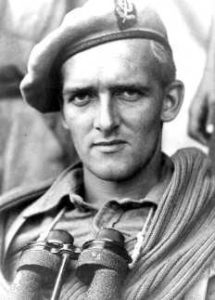 Anders Lassen fandt jeg ikke på udstillingen om VC, men i en anden udstilling. I en beskrivelse af fem fremtrædende personer inden for militært lederskab nævnes han som en af dem. Anders Lassen modtog også VC og var den eneste udlænding, der fik det under 2. verdenskrig. Anders Lassen blev sømand i 1939 og meldte sig til britisk militærtjeneste i 1941, hvor han efter kort tid blev medlem af en specialenhed – Special Boat Service (SBS).
Damien Lewis' bog "Churchill's secret warriors" beskriver mange af Andy's bedrifter.
Her er nogle citater fra en anmeldelse i en britisk avis:
Lewis's compelling book gives as good an explanation as any of why the Special Operations Executive also came to be known as the Ministry of Ungentlemanly Warfare. And perhaps the least gentlemanly of the SSRF butcher-and-bolt specialists was an aristocratic Dane, Anders — known as Andy — Lassen, who was not averse to bellowing orders in German to confuse the enemy.
His father, visiting London before the war, liked to summon his chauffeur-driven Rolls-Royce with a blast of his hunting horn from the steps of the Hyde Park Hotel. It was the similarly unorthodox Lassen who petitioned the War Office to be allowed to develop the bow-and-arrow, with which he had hunted on the family estate, as the perfect, silent killing machine. But Whitehall mandarins refused, declaring arrows — in the age of the machine-gun and flame-thrower, as Lewis wryly points out — to be somehow 'inhuman'.
Still, that didn't stop Lassen, dubbed the 'Robin Hood commando' by locals in rural Dorset, where he trained in the summer of 1942 in preparation for a furtive assault on the occupied Channel Islands. Indeed, one of the themes of this absorbing tale is the constant battle not just between the Allies and the Nazis, but also between the regular army and Churchill's licensed buccaneers.
In Italy in 1945, one regular officer told Lassen that he and his wild bunch were a disgrace. What, he thundered, would the enemy think of them, if they were found not just dead, but unshaven? It is certainly true he was no respecter of bureaucratic authority. After every raid, he and other key commanders were supposed to file an operational report. But he detested all such paperwork and his reports famously consisted of no more than five words: 'Landed. Killed Germans. F***ed off.'
But almost more interesting than the operations are the fearless individuals who carried them out, most prominently Lassen, a wonderful, fantastical character who was a sort of cross between a marauding Viking and James Bond. After playing his part in the liberation of Athens, he and his dissolute group of maverick fighting men were carried through the streets and showered with flowers. They partied, says Lewis, 'as if there were no tomorrow.'
At one point, Lassen managed to get his hands on a jeep; after it was stolen, he promptly stole another from some recently-arrived American forces, which he then took to parking in the only secure place he could think of, driving it up the steps of his hotel, into the capacious lift and up to the floor his room was on. Handsome and supremely confident, he was also a rampant womaniser. One night in Salonika, while his men were carousing in the hotel grounds, he emerged from his room naked apart from his boots, shouting: 'Chaps, can't you let your CO screw in peace?'
His men adored him because he was fearless, led from the front and never gave an order he wouldn't carry out himself. His men's success, particularly in the Aegean, can be summed up by the words of one exasperated German commander, who said Lassen and his men 'come like cats and disappear like ghosts'.
Man kan undre sig over, at der ikke er lavet en film om Anders Lassen, som ikke blot er Danmarks største men også en af briternes største krigshelte under 2. verdenskrig. Der har været rygter om at en film er undervejs fra dansk hånd. Lad os håbe at det ikke bliver til noget – 1864 af Bornedal var så uhyggeligt ringe, at det er bedre at undvære. Politiken undersøgte i 2008 hvorfor der ikke var lavet en film om ham og fik det svar fra nogle af Danmarks bedste indstruktører og manuskriptforfattere, at "  Lassen var for renhjertet. Han havde for få skyggesider, for få problemer at slås med – og for lidt »uanstændig sex«. Han var simpelthen for meget helt til, at vi biografgængere kunne identificere os med ham."
Hold dog kæft! – endnu en grund til aldrig at se danske film. I en tid, hvor man kan komme i retten eller blive myrdet for at fortælle en vittighed, og det er blevet moderne at forsvare antidemokratiske kvindeundertrykkende lovreligioner har vi i den grad brug for helte, der kæmper for frihed og lighed.
Lige en interessant detalje. Anders Lassen havde en tysk fætter, Axel Freiherr von dem Bussche-Streithorst, søn af Jenny Lassen, og de sås jævnligt gennem barndommen og havde et godt forhold til hinanden. I 1937 blev Axel indlemmet i den tyske hær. I 1942 overværede han tilfældigt, at SS myrdede mere end 3.000 civile jøder. Det chokerede ham og fik ham til endegyldigt at vende sig mod Hitler. Han tilsluttede sig en modstandsgruppe, der senere blev ledet af Stauffenberg.
"In November 1943, von dem Bussche, personally encouraged by Count Claus Stauffenberg, undertook to carry out a suicide bombing to kill Hitler.
The plan was clever. Bussche would act as a model for a new Wehrmacht greatcoat at the Wolfsschanze, Hitler's headquarters in East Prussia. The operation was based on two essential elements: Hitler's obsession with uniforms and military paraphernalia and Bussche's ability to lull suspicion among the SS guards. His credentials were flawless. He had the right kind of Aryan good looks and he had won the Ritterkreuz, the German equivalent of the VC. In the greatcoat he was to carry two hand-grenades with four-second fuses. While Hitler inspected the coat he would release them and throw himself on the Fuhrer until the explosion immolated them both.
Bussche travelled by rail to the High Command of Mauerwald, 10 miles from Hitler's headquarters. He stayed in his room so as not to attract attention. The date was fixed. Then the irony of war struck. An Allied air raid hit the train delivering the uniforms; the model greatcoat was destroyed. With his luggage full of explosives Bussche returned to Berlin. By January 1944 the lost uniforms were replaced and Stauffenberg recruited Bussche a second time. His divisional commander, Gurran, unaware of the plot, refused permission with a curt note: 'My officers are not mannequins.'
Not long after, Bussche was wounded and lost his leg. This helped save his life. He was in hospital (with the bomb under his bed until a friend managed to smuggle it out) when Stauffenberg's ADC, Klausing, visited him to warn him of the impending July attempt to kill Hitler. After Stauffenberg's death the visit alerted the SS and he was repeatedly interviewed. But his long hospitalisation and the brave silence of his fellow conspirators made things difficult for them. Bussche always felt guilty for having survived."
Hvis ikke historien om Anders Lassen giver grundlag for en fabelagtig film, så er der er ikke noget, der gør. Giv mig 173 millioner, som Bornedal brugte på 1864, så skal jeg lave den!
P.S. Opdatering. En tredje dansker – Percy Howard Hansen – har også fået VC.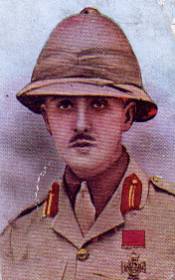 Victoria Cross (1 October 1915) "For most conspicuous bravery on 9th August, 1915, at Yilghin Burnu, Gallipoli Peninsula. After the second capture of the "Green Knoll" his Battalion was forced to retire, leaving some wounded behind, owing to the intense heat from the scrub which had been set on fire. When the retirement was effected Captain Hansen, with three or four volunteers, on his own initiative, dashed forward several times some 300 to 400 yards over open ground into the scrub under a terrific fire, and succeeded in rescuing from inevitable death by burning, no less than six wounded men." (Wikipedia)