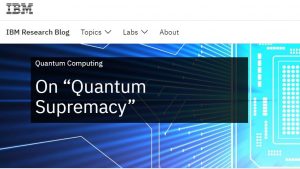 In September, it was briefly mentioned on NASA's website that Google's quantum computer had been able to make 200 seconds, which would have taken 10.000 years on the world's fastest supercomputer, Summit, at the Oak Ridge National Lab.
IBM now has a blog and one technical paper argued that that claim is all the way into the woods. IBM, which developed the Summit, says that the supercomputer could have made the calculations in 2,5 days - and points out that it is even a "conservative, worst-case" estimate.
"We argue that an ideal simulation of the same task can be performed on a classical system in 2.5 days and with far greater fidelity. This is, in fact, a conservative, worst-case estimate, and we expect that with additional refinements the classical cost of the simulation can be further reduced. "

Source: IBM blog on the matter
Google has exaggerated the sovereignty of quantum computers by a factor of 1,46 million. Even Trump can't be here.
Now, Google's smart people have probably started figuring out a counter-response. Maybe they use the quantum computer for that. Here I just have to put in a comment that was not to be found, as the world press was busy praising Google's computer, when the 200 seconds result came out:
Who checks if the calculations are correct?
When you first invented the first computers, you counted on your hand to check if the results were entirely on horseback. If there were actually calculations that would take 10.000 years at Summit, how could you trust them when it is impossible to count?
But quantum computers are on the way, and it will provide tremendous opportunities on many fronts once we have mastered the technology. Someone has figured it out.