Investing in ESG pays off financially, Deutsche Bank concludes after reviewing over 2.000 studies.
Sustainability is hotter than ever, and according to JP recently, in the first half of this year, 77 created new sustainable investment funds in Europe.
CSR, ESG, SDG, SRI, Impact Investing… have never been so hot. For many years there has been an increasing focus on sustainability, including sustainable investments. The figure below shows how the number of empirical studies to elucidate the relationship between ESG and CFP (Corporate Financial Performance) has grown dramatically since 1970.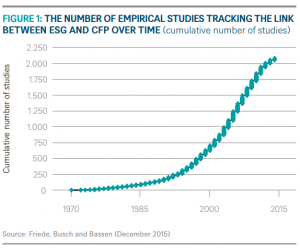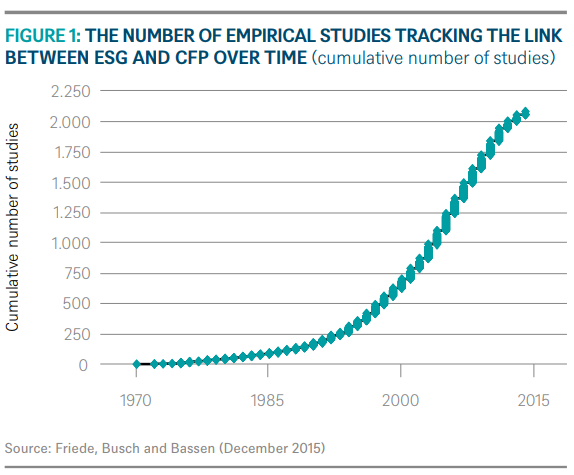 The figure is taken from this analysis prepared by Deutsche Bank's Asset Management department together with Hamburg University for 2015. They have undergone over 2.000 individual studies and conclude in their whitepaper at
"The business case for ESG investing is empirically well founded, such that investment in ESG pays financially and appears stable over time.
The financial gain is seen in different asset classes, as shown in the next figure.
Portfolio studies (consisting of investment associations, indexes and long-short portfolios) are not many, and they immediately show a weaker positive relationship. To this end, Deutsche Bank has the following comment:
"This may reflect the fact that many ESG funds follow a mixture of negative and positive ESG screens, which attract a broad array of value-driven and profit-seeking investors. As a result, unifying this fund group under one classification may lead to distortions and drown out various overlapping market and non-market factors.
Deutsche Bank believes that the portfolio studies are misleading in view of the overwhelmingly positive results of the asset classes and end:
"At worst, investors in ESG mutual funds could expect nothing compared to conventional fund investments."
So far so good. Sustainability has become a competitive parameter, and companies are rewarded for actively working for a more sustainable development.
But what is actually sustainability? Is your lifestyle sustainable? Is your business? Is Denmark's?
The answer to the last question is no, if you ask WWF, who has calculated that if everyone lived like the Danes, it would require natural resources like at least 4 globes. We have a very intensive agriculture with large agricultural exports, extensive fishing and a high climate pressure, the Danish Secretary General of WWF, Bo Øksnebjerg, pointed out.
Most large global companies today want to signal sustainability as a natural part of the strategy and business concept, but it is not so straightforward to assess whether they live up to the ambitions.
Morningstar has tried to help investors on the road with the launch of the Sustainability Fund for Investment Funds in 2016 and describe it as follows:
"It is a portfolio-based assessment of the extent to which companies in a given fund's portfolio take into account climate change, environmental challenges, companies' treatment of employees and general social responsibility and the like. in their business model. "
Regardless of the difficulty of defining whether a company can be called sustainable or not, then it is a fact that sustainability is a strong trend that will grow in the coming years.
There is - despite a slow realization on many fronts - a growing interest in saving the world.