We share and recommend on Social Media - be sure to join
Social Media has changed the world dramatically and made the internet humancentered. The Internet was initially a place where one could advertise with ones websites, mostly as an alternative phone book, but today it is a dynamic platform where people are cross-linked across generations, gender, jobs, interests, national borders, etc.
We have in connection with the explosive use of social media created a recommendation economy. We are quick to share merciless criticism if we have been poorly treated by a company, have purchased disappointing products or services. But conversely, we also tell if we have experienced good treatment and good products and do not hesitate to share our recommendations with others.
Of course, the companies must be aware of this world, and therefore it is extremely important for a company to be present on the social media. But it is different from company to company, where one has to concentrate the efforts. It depends on the products or services you sell, what the target group looks like and what goals you have.
How many Danes use social media?
The figures below show the percentage of Danes who on a daily basis, were using the different social media in 2015:
Facebook - 62%

Youtube - 17%

Snapchat - 15%

Instagram - 11%

Google+ - 11%

Twitter - 4%

Pinterest - 3%

LinkedIn - 3%

Tumblr - 1%
Source: DR, Media Development 2015
Not surprisingly, Facebook has an impressive position. But these figures cannot stand alone. For example, one might be tempted to ignore LinkedIn. Although LinkedIn is only visited by very few daily, there are quite a few members.
1. Facebook 3.500.000 Monthly Users (73%)
2. LinkedIn 1.100.000 monthly users (23%)
3. Snapchat 890.000 Monthly Users (18%)
4. Instagram 770.000 Monthly Users (16%)
5. Twitter 570.000 Monthly Users (12%)
6. Pinterest 240.000 Monthly Users (5%)
Source: DR, Media Development 2014 (figures in brackets show the proportion of Danes 12 + years).
As these figures show, LinkedIn is also an important channel to profile the company's messages. But again - where to put in your efforts depends on your product and your target audience. For example, if the target group is under 20 years, LinkedIn is naturally not important, but Snapchat plays a large role.
Who uses what?
The Danish Agency for Culture issues an annual report on the Danes' media use. Here are some facts from 2015 report:
Young people are more connected to social media than the elderly, they use the services more often, and they also make use of a greater diversity of social media. A larger proportion of the 16-19-year-olds visit at least once a day the various social media - significantly more than is the case for the slightly older age groups. Particularly pronounced is the tendency for social media Snapchatwhere 63% of 16-19-year-old social media users use the service daily, while only for 36% of 20-24-year-olds, 21% of 25-29-year-olds, and only 5% of those 30-34-year.
The Instagram The 16-19 age group also stands out, as an almost twice the proportion of this age group uses Instagram at least once a day over the 20-year-old social media users, and the share is three times the proportion of users of social media in the early thirties.
Facebook used at least once a week by 91% of social media users.
It is a large proportion of the young people who go on Facebook daily or several times a day. For the 16-19-year, the proportion is 83% and for the 20-year-olds it is about 70%, while the proportion then falls with age.
Facebook is more popular among women than among men. 49% of female internet users go daily on Facebook, while that is the case for 41% of male internet users.
About 17% of Danish Internet users aged 16-89 years use at least once a week Google+.
About 15% of Danish Internet users aged 16-89 years use at least once a week Instagram.
The service is particularly popular among young people under 20 years, as the proportion of 16-19 year-olds using Instagram daily or several times a day is 42%. For the 20-year-olds, it applies to a share of 20% who use the service daily, while for the 30-year-olds it is 12%. Instagram is only used daily by a very small proportion of Internet users over 50 years.
On a daily basis is Snapchat much more popular with young people than older internet users. 59% of the 16-19-year-old Internet users are using Snapchat daily or several times daily. For the 20-24-year-olds the proportion is 30% and for the 25-29-year-olds the proportion is 18%. More evenly distributed is the proportion in the same three age groups in relation to use Snapchat at least once a week, with the proportion being around 20%. Only 3-4% of 30-year-olds use Snapchat daily. However, 11% of the 30-34 year olds spend Snapchat at least once a week. For the slightly older age groups are used Snapchat only of a very small share on a daily basis.
Twitter is only used to a very small extent by people over 50 years, and the service is only used daily by a limited proportion of Internet users. The largest share using the service daily is seen among the 16-19-year-olds (6%) and 30-34-year-olds (7%).
Pinterest is the social media in the study, which is used on a daily basis by the fewest internet users. It is largely only women who use it Pinterestwhile 2% use the service daily, while 3% of female internet users use the service weekly.
Statistics Denmark also makes a report every year (see 2015 og 2014), and here are some facts from the latest:
The Danes are most active on social media throughout the EU.

55 pct. The elderly people between 75-89 years have been on the internet within the last three months. This is an increase of 32 percentage points compared to 2010, where the share was down to 23%.

While the 16-24 year olds buy clothes, movies and music as well as computer games, the older e-merchants go after traveling. For example, 59 pct. of the 65-74 year-old e-merchants bought tickets for airline, train and ferry online in 2015.

More and more people are trading over the Internet, and Denmark has a high proportion of e-commerce when compared to the average for the EU. Eight out of ten Danes e-commerce, while the average for the EU is only every other.
How many companies use social media?
The graph below from Statistics Denmark shows that every other Danish company uses social media. It also shows in which industries the use is greatest and how large a share uses more media. Not surprisingly, the activity increases with the size of a business. Thus, 65 pct. of companies with over 100 employees social media, while the proportion for companies with 10-19 employees is 45%.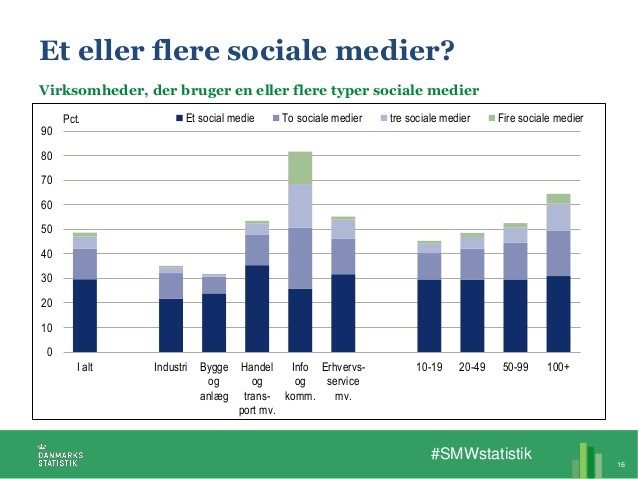 What are we sharing and enjoying?
In the Danish Agency for Culture's investigation, the biggest losers in the fight for the users' interest and attention are "Sport", "Famous People and Commercial Content", where 65,3%, 68,5% and 70,8% respectively answer that they do not engage in this topic.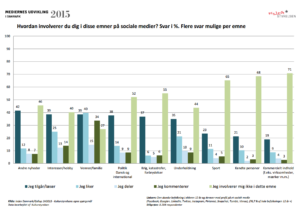 If you look further at which topics the users like and comment on, the absolute top scorer is "Friends / Family" that 39,8% likes and 33,7% comments. Then follows "Interests / hobby" that 24,9% likes and 13,9% comments and "Entertainment" that 21,3% likes and 8,6% comments.
There is a big difference between the different age groups from young people to the elderly, but it is important here to note that "Commercial content" has the lowest status. This is where companies need to be inventive if they want to engage people.
And that's an art.