Solar energy has long been the fastest growing trend among renewable energy sources globally. Even in the US, the election of Trump cannot stop the growth of the solar energy industry, which for years has been the fastest growing industry - and in 2015, job growth showed 12 times stronger than in the overall US economy.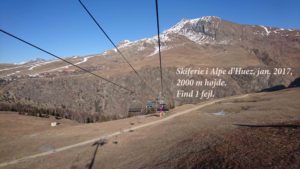 Clean Tech and renewable energy, including solar energy, were severely affected by the financial crisis, which caused capital problems and a weakened political will to focus on the challenges of global warming.
Meanwhile, the globe has become warmer. 2016 was the warmest year ever recorded. 16 of the 17 warmest recorded years have thus been in this century.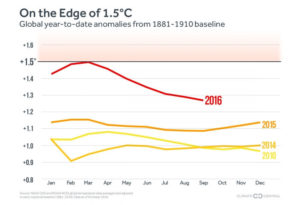 But the political mood has also become greener. Germany marked an important political shift in 2011 with the decision on much more focus on sun and wind. Though the decision to phase out nuclear power was foolish. Firstly, it was a reaction to the nuclear accident in Japan as a result of the earthquake and tsunami (will never happen in Germany), and secondly, nuclear power has never been safer.
The EU has set the bar high in a global perspective with a goal of 40 per cent. reduction of CO2 in 2030 over 1990; 27 pct. of the total energy production to be made up of sun, wind and other renewable energy; and 27 pct. energy savings in relation to the business-as-usual scenario.
There are still a number of climate skeptics globally, especially in US conservative circles who are now receiving presidential support from Trump.
But it has become difficult to argue that there is global warming going on. Facts speak with increasing weight around the world - extreme weather changes occur at a rate that cannot be explained by natural phenomena.
What is global warming?
But let's just take the ultra-short version of what global warming really is:
The Earth's climate is determined by a balance between the energy that the Earth receives from the Sun and the energy that the Earth itself radiates into space. If the heat radiation were to accurately offset the radiation from the Sun, the average temperature on the Earth's surface would be -18 degrees C. But it is around +14 degrees C. The difference is the greenhouse effect - certain gases absorb the longwave heat radiation that would otherwise be phased out into space again. CO2 and methane are among the gases.
Cut into cardboard: When the greenhouse curtain in the atmosphere becomes thicker, it gets warmer on Earth. This is a scientific fact that no one disputes.
En Pew Research study In 40 countries in 2015, overall, the majority in all countries believe that climate change is a serious problem and a global median of 54%. believe that it is one much serious problem. Concern is greatest in Latin America and Africa - and least among the largest CO2 emitters, especially the United States.
Misinformation, missing information and media working methods
What is the explanation for that? One very important explanation is lack of information and outright misinformation. Republicans, as you know, will not recognize global warming as a man-made problem and are constantly trying to question the research. It is clearly illustrated in a leaked memo from the famous strategist of the Republicans, Frank Luntz, in 2002, in which he guides how Republicans should tackle global warming and environmental issues - a memo that has since been widely used as a guide to the Republicans' official attitudes .
… Voters believe that there is no consensus about global warming in the scientific community. Should the public come to believe that the scientific issues are settled, their views about global warming will change accordingly. Therefore, you need to continue to make the lack of scientific certainty a primary issue in the
debat ... "
The media also have a large part of the blame for both misinformation and lack of information.
John Cook of Skeptical Science conducted a study in 2014 that was about what Americans across the political spectrum think about the consensus of science. Not surprisingly, there was a marked drop from left to right in the belief that science agrees that it is humans who are creating global warming. But even the far left does not believe that the consensus of science is above 70 per cent. - a strong contrast to the 97 per cent. agreement in the scientific ranks. So while "cultural filters" can explain the declining trend, they can not explain the difference between 70 and 97 percent, which Skeptical Science therefore attributes to misinformation and lack of information.
But the Americans also doubt that human emission of CO2 is the cause of global warming. In a Gallup study from 2016X, 69 p. that climate change is a reality, but only 49 per cent think it is due to human activities.
The media has for many years helped to enhance the impression of uncertainty about people's contribution to warming. It is related to the "balancing of views" that journalists aspire to. Or rather: They learn from the journalistic colleges that they must go after conflicts to create the most possible readers and viewers. Find a topic and two people with opposing attitudes. This can be relevant in many contexts where there is no clear truth. But in terms of global warming and the role of man, science is not in doubt, and it is absurd to maintain "the balanced views". Like pulling people in the studio to discuss whether Earth is round or flat.
Other previous studies confirm the foolishness of the journalistic "balancing act". In 2013, The Union of Concerned Scientists analyzed 24 cable news programs. The right-wing Fox News provided misinformation in 72 percent. of its features, but even CNN, which is considered neutral, misrepresented climate change 30 percent. of the time. This was done by involving climate skeptics to such an extent in debates that great doubt was cast on the guilt of man in global warming.
In 2004, Maxwell Boykoff and Jules Boykoff published an academic paper based on a study of global warming covered in four major American newspapers, the NY Times, the LA Times, the Washington Post, and the Wall Street Journal in 1988-2002. The conclusion was that in 52,65 per cent. of the articles was precisely about a "balanced" point of view - ie. it was weighted equally that it was humans who created the warming as natural fluctuations.
In Denmark, Denmark's Radio, which has to imitate everything that American media do, has also made its way into questioning the human role in global warming with, among other things. several reissues of the researcher Henrik Svensmark's presentation of his theory that there are variations in the sun's activity, which is the cause. And generally, the focus on the subject is low priority in the so-called public service channel, whose self-declared main purpose seems to be non-committal entertainment.
The consequences are already seen
But enough about that. The fact is, global warming is in full swing, and the consequences are seen on many fronts.
In the first week of 2017 I was skiing on Alpe d'Huez in France with my two girls and the lack of snow was scary. The vast majority of slopes were closed, and most open it was only by virtue of artificial snow. You had to go over 2400 meters to find natural snow. Well, a lone swallow does no summer, and in some places in the Alps there was also plenty of snow.
But the trend is evident over a number of years. Several studies From Switzerland, France, Austria, Italy and Germany, since the end of the 1980s, there has been a general decline in snow cover and snow depth, as well as higher winter temperatures in the Alps.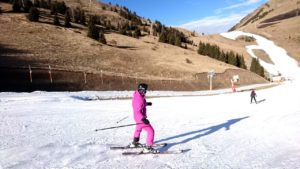 The ice in the Arctic is in 2016 at the second lowest level ever - only surpassed by 2012. The level is XNUM million. kvadratkm. less than the average of 2,56-1979 - an area equal to the area of ​​Texas and Alaska combined. But istabet stands for accelerating dramatically. In November 2000, Danish and American researchers were able to report air temperatures of 2016 degrees Celsius higher than normal over most of the Arctic, while the sea temperature was almost four degrees above normal in November and October.
The Relief Society Care published a few months ago one rapportin which 2015 alone saw almost twice as many people fleeing climate change as people who fled war and conflict. And it is estimated that in 2050 there will be up to 250 million. climate refugees, if the price of temperature increases of 3-4 degrees is maintained.
But there are many other societal effects, including the impact on agriculture. For example, a new study of an international research team with the participation of inter alia shows. Professor Jørgen E. Olesen from the University of Aarhus states that three different independent methods give the same result:
For every degree Celcius the global temperature rises, the yield of wheat decreases with 4,1-6,4%.
Not encouraging in view of the fact that the world's growing population means that in 2050 we will need 70%. more food in step with the increasing purchasing power of the growing global middle class, which will be used for more meat in the daily diet.
Socio-economic costs and scary scenarios due to global warming are increasingly being taken seriously by governments that are already struggling with dissatisfied populations who feel pressured by globalization, immigration and automation.
There is growing political consensus that global warming is a challenge the world needs to do. The COP 21 agreement in Paris was an important step. But there is a long way. Even if all the promises made by the different countries are fulfilled - which is unrealistic - it is not enough.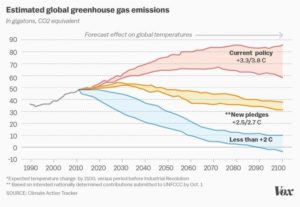 But global warming has been given priority by the peoples. Consumers around the world demand Increasingly focus on global warming and corporate environmental concerns, and the world's largest investment banks and investment funds openly talk about the need - knowing that the Clean Tech Revolution is a strong long-term trend that can make money. In 2016, for example, the world's largest asset manager, Blackrock, was out a new reportin which investors' need to take into account climate change is strongly underlined.
"All are faced with a swelling tide of climate-related regulations and technological disruption. We believe all investors should incorporate climate change awareness into their investment processes. "
Solar energy is far cheaper than fossil fuels
The socioeconomic cost of not meeting global warming on a large scale with the phasing out of fossil fuels and increased focus on energy efficiency and renewable energy sources was first really elucidated with The Stern Review. A report prepared for the UK Government in 2006, which concluded that "business as usual" would cost 520%. of global GDP annually - forever. While the annual cost of reducing CO2 emissions will adequately cost a modest 1%. Messages of this kind weigh heavily in the consciousness of most politicians, and since the 2006 report, despite the financial crisis, there has been great progress, investment and regulation in many countries in relation to global warming.
An eternal source of discussion has been when sources such as wind and sun reach Grid Parity - ie when they can supply electricity at the same price as a traditional power plant.
The truth is, they have been able to do so for years. The IMF once hammered a pile through the myth of "inefficient renewable energy on support" with report in 2015. Herein it was stated that taking into account all the societal costs in terms of air pollution and extreme weather above the annual aid of NUMB. dollars or more, the real global support for fossil fuels is XNUM billion. dollars. In that light, renewable energy sources such as sun and wind are sovereign winners. Nicholas Stern, chief of The Stern Review, even believed that the IMF report underestimated the actual cost of fossil fuels:
"A more complete estimate of the costs due to climate change would show the implicit subsidies for fossil fuels are much bigger than this report suggests."
Trump can't stop the global green wave
The choice of Trump in the United States is also the choice of a notorious climate skeptic who believes that the United States must run from any commitment in the Paris Agreement. What Trump says and possibly does is in many areas an uncertainty factor, but even his absurd attitudes will not turn the global green wave. And the United States is also good at solar energy with a global third place on installed capacity in 2015.
China, the world's largest CO2 emitter, is - not least because the country is getting stifled in pollution - in a few years gone from being opposed to climate agreements to being a green front runner. A dealer from China stated at the 2016 climate conference in Marrakech in response to Trump's stated goal of pulling the United States from the global climate agreement that "it's global society's will that all want to co-operate to combat climate change". And added that "any move" by the new US government will not affect China's ongoing transformation into a greener economy.
Here is, moreover, a figure that someone should show Trump who is busy promising jobs for everyone, but neither is aware that the home flag production will lead to automation, not jobs, or the potential of a green transition. The United States solar energy industry created more jobs in 2015 than the US oil and gas extraction as well as the pipeline industries combined - and job growth was 12 times greater than in the United States overall economy.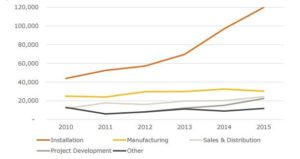 Source: The Solar Foundation: National Solar Jobs Census 2015
Solar energy costs have fallen dramatically
At 88 minutes, the 470 exajoules of energy hit the Earth's surface - similar to human energy's energy consumption of one year. In 112 hours - less than five days - the amount of energy is 36X zettajoules - which equals as much energy contained in all known reserves of oil, coal and natural gas on the planet. If humanity can capture just 1 / 1000 of the solar energy that hits Earth, we will have access to six times as much energy as we consume today, scientist Peter Diamandis writes. These numbers combined with the exponential decrease in the price of solar energy mean that we will be able to deliver 50-100%. of Earth's energy needs via solar energy (and other renewable sources) within 20 years, he argues.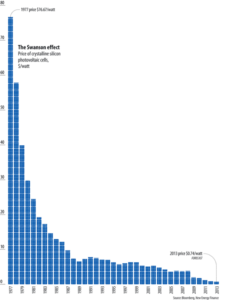 The figure shows the dramatic development in the price of solar energy. The Swanson effect is named after Richard Swanson, founder of SunPower, and is, in turn, the solar energy response to Moore's Law in the computer world, which says that the size of transistors (and also their cost) is halved by about every XN. month. The Swanson effect indicates that the price of photovoltaic solar modules decreases by 18%. each time the global manufacturing capacity doubles.
Falling prices in line with increasing mass production are, of course, not a phenomenon reserved for solar cells, as the figure for the price development of the Ford Model T shows.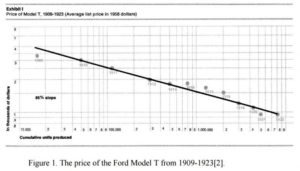 The figure below is also extremely interesting and has been compiled by Ramez Naam, author of The Infinite Resource: The Power of Ideas on a Finite Planet. It shows that with the continued price development (Names conservatively calculates with 16% per doubling in capacity), we could see around 2020-2021 when the solar capacity has tripled to 600 GW non-subsidized solar energy prices around 4,5 US cents / kwh in very sunny areas and 6,5 cents / kwh in areas with more moderate sun. Around 2030% will of our current electricity needs with the current growth rate being covered by solar and solar power will cost 163 cents / kwh.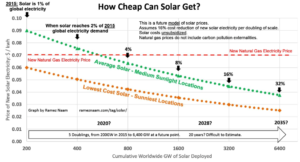 "If this holds, solar will cost less than half what new coal or natural gas electricity cost, even without factoring in the cost of air pollution and carbon pollution emitted by fossil fuel power plants ", Ramez Naam writes.
The following figure illustrates what the price development has meant for the global installation of solar energy.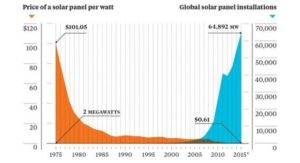 An important support for solar energy also comes from the fact that we in Diamandis' optics are reaching a breakthrough in technologies concerning. batteries and energy storage.
The solar cells themselves are also being researched alive and experimenting with many new materials and nanotechnology, which at one point results in significantly higher efficiency than today, how far the largest part of the solar energy that hits the cells is not utilized.
There is also experimentation with what Jules Verne was talking about in 1874 with the novel "The Secretive Island."
Here Pencroff asks his friend, engineer Cyrus Smith, about what to burn when the coal reserves escape.
"Water," replied Cyrus Smith.
"Water!" Pencroff exclaimed. Water to heat steam baths and locomotives with, water to boil with water!
- Yes, that is, water dissolved in its individual constituents, "Cyrus Smith replied. And this must undoubtedly be made by the help of electricity, which will then become a mighty and usable force, for all the great discoveries of today seem to point to this inexplicable law. Yes, my friends, I believe that water will once be used as fuel, that the hydrogen and oxygen [hydrogen and oxygen] from which it is composed, used separately or in combination will provide a source of heat and light that is inexhaustible and has a strength that cannot be obtained at Stenkul.
So it is about splitting water into hydrogen and oxygen. You can easily do that with electricity, but the dream is to be able to do it solely by using electricity generated by sunlight. There are a number of researchers working around the world. Farther is probably Daniel Nocera at Harvard University, who in 2016 published new major advances in Science.
Solar energy plants also receive increasing interest from the institutional investors who, in a world with extremely low bond yields and expensive stock markets, find it difficult to find the returns that will make pension customers' savings grow - a particular problem in relation to the customers who is guaranteed annual return of 4-5%. Not to save the world - although it is a valuable side benefit to be able to signal to customers - but because it is a good investment, which, in light of the COP21 agreement and the global commitment to fighting global warming, hardly gets the carpet torn under it with sudden legal interventions that degrade the investment.
Danish politics should support solar energy more
Denmark's changing governments, irrespective of party colors, are usually not very much in favor of supporting solar energy - there is a blind focus on wind energy, which is the only salvation. And the one-sided focus has then also given a gain - 42 per cent. According to Energinet, Denmark's electricity consumption in 2015 was covered by wind energy, while solar energy accounted for modest 2 per cent.
But solar energy is still growing and unlike wind turbines which are a mature technology, there is a huge potential in solar energy, backed by massive global research. In December 2015, the Danish Energy Agency estimated in a background report for its baseline projection that solar energy must supply resp. 5 pct. and 8 per cent. of electricity consumption in 2020 and 2025. It is almost a doubling compared to the projection in 2014 still significantly below the role of solar energy in, for example, the rain-soaked UK with fewer solar hours than Denmark, where solar cells in April-September 2016 delivered 5,2 per cent. of UK electricity consumption. It was not only the highest level ever, but also for the first time more than the British coal power plants delivered (4,7 per cent) in the same period.
Immediately, one could be encouraged by the new government's government base, which states that one will work for at least 50%. of the Danes' energy needs must come from renewable energy sources in 2030. And "This new goal is to ensure that Denmark maintains a high pace in our green transition".
But as the engineer writes d. December 1:
"But if one looks at the DEA's latest annual energy and climate projection from December 2015, then it shows that the share of renewable energy in energy consumption already with the adopted instruments from the energy agreement will reach 39X and 41% in 2020, respectively. If you then extend the curve towards the government target 50 pct. in 2030, it turns out that the RE expansion will grow significantly slower between 2020 and 2030 than it does in the period 2010-2020 - still according to the Energy Agency's projection. Which again signals that 50 percent renewable energy in 2030 does not exactly mean that you 'maintain a high pace in the green transition.'
Greenpeaces' climate and energy worker Tarjei Haaland tells the engineer that the goal for the RE share in 2030 should be up to 60-65% if we are to keep the existing pace.
Let the sunshine in. Also at Christiansborg.