Mass death among insects is a global phenomenon
The photo below is taken in my garden and shows an INSECT. Even of the pollinating kind. But you must also have noticed that there are not many insects this year. However, this is not something that can only be observed this year. Insect stocks all over the world have fallen dramatically in the last 30-XNUM years.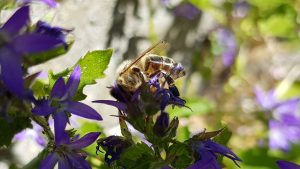 However, it is limited what has been done by studies as it is extremely resource-intensive to study large scale insects. Today, one knows about 1 million species, but it is estimated that there are at least 4 million more that are not described.
windscreen phenomenon
If you have some years on the bag, then you have also made your own study over the years. Windscreen phenomenon call the insect researchers it. A longer drive in the car on the Danish country roads 40 years ago meant that the windshield was overwhelmed by broken insects. This is no longer the case.
In this decade, more focus has been placed on the disappearance of the insects - however, in the media, focus has mostly been concentrated on the honeybee's mass death as a result of their important role as pollinators and thus agriculture.
45 pct. of invertebrates disappeared in 40 years
But it's not just the bees that are in free fall. In 2012, the Zoological Society of London published a report, where it was estimated that a fifth of the world's invertebrates - which make up almost 80 percent. of the world's species, of which insects make up by far the largest part - are at risk of extinction.
A study in Science XNUMX pointed to a decrease in invertebrates of XNUMX%. through XNUMX years - XNUMX% of the insect species with IUCN-documented population trends showed a decrease with great variation between species.
A German study published in Plos One aroused 2017. The study showed that over 75 per cent. of the insects in Germany have disappeared over the past 27 years.
Elsewhere in the world - similar trends are reported from Australia and Italy to the United States. In western North America, the stocks of the Monark butterfly have fallen dramatically. In the 80's there were 10 million. Monarch butterflies that wintered in California - today the figure is almost 300.000. Studies indicate that pesticides are the cause.
Over 400 million birds in Europe have disappeared since 1980
Insects represent an important source of food for birds and bird populations in Europe have fallen by 421 million. across 25 European countries during the 1980-XNUM period, showed a study in 2014 - a decrease of more than 20% of the total population. A dramatic decline, which is primarily attributed to intensified agriculture and partly to urbanization, which has created fewer and more fragmented habitats - and fewer insects.
In France is bird populations declined by one third Over the past 15 years, French researchers point out that this is due to a dramatic decline in the stock of insects.
Agriculture is the biggest villain
No one has the unequivocal explanation for the insects disappearing, but the pattern is that it is especially in the long-term intensive countries with massive use of fertilizer and pesticides that experience the dramatic decline in insect stocks. The French scientists say it more clearly than others and point to the intensive use of pesticides on the vast fields of monocultures.
The agriculture's so-called "green" revolution, which took off in the 60's, has its price. There is a need for a new and different "green" revolution. There are many initiatives and suggestions around the world - but Denmark continues in conservative style. Although organic farming is in progress, it is still below 10 per cent. of the total agricultural area. And the overall policy is unchanged. Denmark recently voted in the EU with three eastern countries no to a ban on a particular pesticide related to bees' mass death. Despite the adoption of the ban, the Danish EPA intends to continue to give Danish farmers exemption for the use of the pesticide group neonicotinoids.
Ecological disaster
Insects are important - not least pollinating. Over ¾ of wild flowering plants in temperate regions need pollination to fully develop their fruits and seeds - and that is, of course, important for the ecosystems' food chains and long-term survival. Pollen insects improve or stabilize the yield of ede of all cultivated crops globally (read more in this note by British researchers).
But not just that. When important links in ecosystems and food chains disappear, it creates unpredictable cascade effects with potentially catastrophic consequences.
However, Martin Sorg, one of the researchers behind the study of insect mass death in Germany, does not believe that we will eradicate all insects.
"Vertebrates will die out first," he says to Science.