For many, it still seems like science fiction that technology will create a revolution in the labor market. But it is already in full swing. And paradise or ragnarok is waiting ahead. Get an overview here.
In 1956, Walter Reuther, head of the Automobile Workers Union, held a speech referring to a conversation he had had with a senior Ford factory worker for three years, who proudly showed the machines.
One of the management people, with a slightly glaring tone in his voice said to me, "How are you going to collect union dues from all these machines?"
And I replied, "You know, that's not bothering me. I'm troubled by the problem of how to sell automobiles to these machines.
It is not a new phenomenon to talk about the fact that machines will displace people from their jobs - and thus also create the problem of consumer purchasing power. In 1811, a protest movement against weaving machines arose in England. But new jobs arose. And the story shows that every time a loud cry has been made that "the technological wolf is coming," the warning has been shamed.
Agriculture, industry, service, robot ...?
In 1900 was 41%. of the US workforce engaged in agriculture. In 2000, the share was 2 per cent. In the United States and the other countries that we currently define as developed, industrialization shifted the workforce into manufacturing factories and later out into the service sector. These shifts have always created new jobs - even though the women rushed into the labor market from the middle of the last century. US employment rose from 1950-2014, and unemployment is now down around the historical average - though that figure is misleading as labor market participation is the lowest in 40 years, and many new jobs are part-time jobs.
Now we are in the globalized information, knowledge, sharing, digital, technology, robot society, where the challenge is different. The digital revolution, advanced automation and robotics and artificial intelligence will be able to displace many manual labor jobs at a rate that the creation of new jobs is unlikely to follow.
The famous economist John Maynard Keynes warned all the way back in 1930 about "technological unemployment" which, in his opinion, would be likely 100 years later.
We are afflicted with a new disease of which some readers may have heard the name, but which will hear a great deal in the years to come - namely, technological unemployment. This means unemployment due to our discovery of means of economic use of labor outrunning the pace at which we can find new uses for labor.
He talked about having to work for weeks at 15 hours, which he considered beneficial in relation to the true values ​​of life - but he was worried about what it would mean to us as human beings that we suddenly had to fight for ours. Survival throughout the history of mankind would suddenly release the reins.
Thus we have been expressly evolved by nature - with all our impulses and deepest instincts - for the purpose of solving the economic problem. If the economic problem is solved, mankind will be deprived of its traditional purpose. Will this be a benefit? If one believes at all in the real values ​​of life, the prospect at least opens up the possibility of benefit. Yet I think with the readjustment of the habits and instincts of the ordinary man, broad into him for countless generations, which he may be asked to discard within a few decades.
The scientist and the science fiction author Isaac Asimov was also not excited about the prospect of a world where technology made sure to do the work for us. In 1964 he wrote an essay in which he imagined how the world could look in the future. And he was worried that we would live in a community of "forced leisure".
The lucky few who can be involved in creative work of any kind will be the true elite of mankind, for they alone will do more than serve a machine.
The End of Work
The talk about technological unemployment and the fear of automation have sprung up regularly with the introduction of technological innovations in the workplace. In 1961, for example, Time Magazine had a story - The Automation Jobless with the subtitle Not Fired, Just Not Hired - in which stood: "The number of jobs lost to more efficient machines is only part of the problem. What are many job experts more that automation can prevent the economy from creating enough jobs.
Two years later presented Life Magazine a photo of a machine called The Milwaukee-Matic - surrounded by 18 workers that it could replace. And automation and lack of jobs became such a big issue that President Lyndon B. Johnson set up a commission to investigate it. The conclusion was:
"This is an important determinant of the exact places, industries and people affected by unemployment. But the general level of demand for goods and services is by far the most important factor determining how many are affected, how long they stay unemployed, and how hard it is for new entrants to the labor market to find jobs. The basic fact is that technology eliminates jobs, not work".
But as the years went by, the world changed, and community debater Jeremy Rifkin presented another position in 1995 with the book The End of Workwhere he put the topic high on the social debate list again.
"The end of work could be a death sentence for civilization if we have come to know it. The end of work could also signal the beginning of a great social transformation, a rebirth of the human spirit. The future lies in our hands ", wrote Rifkin.
It sparked speculation on technological unemployment, which, however, was overshadowed by the concerns of losing jobs in globalization as Western companies' outsourcing to countries with cheap labor took off - especially after the 2000-XNUM crisis.
Many jobs will disappear in the coming years
Meanwhile, technological advances in computer technology, robots and exponential speed automation technology continued and a paper from Oxford University in 2013 started the debate again. In the study it was concluded that 47 pct. of known US jobs could be automated within 10-XNUM years.
The authors of the study emphasized that it did not mean that 47% would be vacant. New jobs will arise to a certain extent, as has always been the case in line with technological development, but this is where the uncertainty persists. Whether enough new jobs can be created when technological development is so rapid and so advanced that jobs of a more cognitive nature, which have hitherto been impossible to automate, are increasingly being affected.
The Oxford study was the start of numerous similar studies. Here are some of them:
Innovations are brought to market faster
Steven Johnson has written a book, Where Do Good Ideas Come Fromwhere he examines the background of how important innovations actually occur. There are two main conclusions.
One is that the more we are connected to each other, the more ideas arise. No wonder. Exchanging knowledge, opinions and imaginative ideas challenges dogmas and stuck thinking patterns and fosters new ideas and inventions.
The second conclusion is that major innovations occur when the "puzzle pieces are there". Steven Johnson calls it The Adjacent Possible - the nearby possible, an expression defined by biologist Stuart Kauffman - and pointing out that at any point in not only science and technology but also in politics and culture, only certain types of "next steps" are involved. are possible.
The printing press was, for example, only possible and perhaps only conceivable - since you had the essential parts - removable types, paper and ink. Johannes Gutenberg saw the light and also used an old invention - the screw press used in wine production - to make his landmark invention.
Looking back in history, there have also been several instances where great inventions and discoveries have been made at the same time, and it also seems logical with the principle of the "nearby possible" as a starting point. Sunspots were discovered in 1611 by four different scientists in four different countries. Charles Darwin and Alfred Russell Wallace reached the evolutionary theory at the same time. Electric batteries were invented twice with one year's difference, and similar things have been done around the steam engine and the phone. Johnson believes that the most logical explanation is that the discoveries and innovations have simply become part of "nearby potential" as a result of technological and scientific developments.
At Oxford University, researchers in a historical analysis of technological innovation reach the same conclusion as Steven Johnson, and express it as follows:
"Discoveries rarely spring forth as true novelties, but result from putting together familiar things in new ways."
Today we are more connected than ever via the Internet, and the "nearby potential" is far more visible and accessible than at any other time in history.
Historically, countries have, on average, taken 45 years to adopt a new technology after an invention shows this report from Oxford University - with a clear tendency for ever shorter time. On average, it took 119 years for the spider to reach outside Europe, the report points out. In contrast, the Internet, which spread across the globe in just seven years, stands.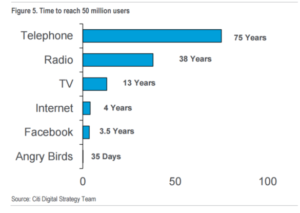 The figure below was presented in the New York Times at 2008X and also shows something about the speed with which important inventions have reached consumers (and also remember that there was an American depression and a world war along the way, during which a very large portion of America's manufacturing industry was converted to the production of weapons and military equipment). It goes fast with the Internet, computers and mobile phones. The internet had XNUM billion. users in 1 and XNUM billion. at the end of 2005. And if the study was made with newer data, it would show that the spread of smartphones and Facebook had exploded in a very short time in historical perspective. Facebook was launched in 3,2 and is used today by 2015 billion. people.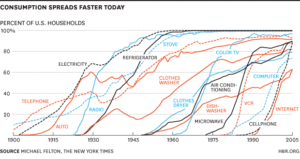 The following three images are other good illustrations of the technological development of consumer goods.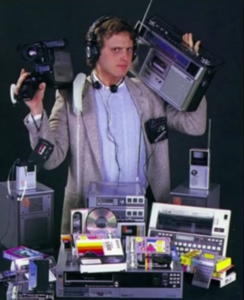 20 years later, all this could be in a smartphone.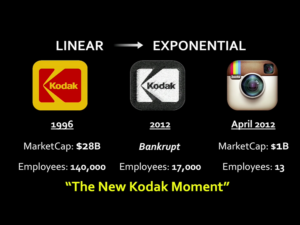 Source: Peter Diamandis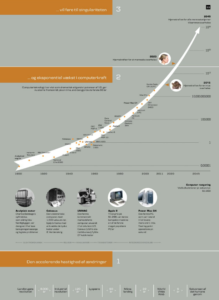 Scientist Ray Kurzweil expects that 1000 dollars of computing power in 2045 will exceed the total human brain capacity.
Source: Flemming Østergaard, INVESTMENT
The higher the salary and the education, the less the risk of automation
Although Deep Blue's victory over the world champion, Garry Kasparov, in 1997 and Watson's supreme victory over the United States undisputed champion of Jeopardy in 2011 has given rise to speculation that robots and computers are now ready to take on high-skilled jobs, so it is not here the biggest threat is in the shorter term. On the contrary, high education or demanding job functions ensure that these jobs are relatively safe. Instead, it is for the first time jobs with low education and low wages that are most vulnerable to automation.
"While 19th century manufacturing technologies are mostly substituted for skilled labor through the simplification of tasks, the computer revolution of the century caused hollowing-out of middle-income jobs. Our estimates thus predict a shift from the computerization of middle-income jobs, to computer mainly substituting for low-income, low-skill workers over the next decades, "writes Oxford researchers.

Other studies emphasize that middle-income jobs are by no means protected - on the contrary. The figure below is based on data from MIT economist David Autor and shows how severely affected middle skill jobs - which generally require high school education - have been through the past 26 years.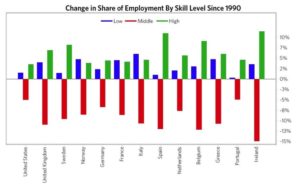 David Autor stated in 2010:
"The decline in middle-skill jobs has been detrimental to the earnings and labor force participation rates of workers without a four-year college education, and differentially so for males, who are increasingly concentrated in lowpaying service occupations."
Which jobs are most likely to be automated?
If you would like a quick bid on whether your job gets caught by a robot, then use this link on the BBC's website.
Overall, the most secure jobs are:
Social workers, nurses, educators, home helpers, therapists, psychologists and others who involve a high degree of empathy

Creative jobs - artists, designers, engineers, researchers

Complex jobs that require a complex mindset, especially dexterity, adaptation to diverse changing tasks

Particularly challenging complex technical tasks in difficult conditions

Jobs that require a high degree of negotiating skills, social intelligence, managers of complex entities
And the most uncertain are:
Routine jobs with low or no education

manufacturing

Many jobs in the service sector

Administrative office jobs

Certain advisory and analysis jobs
In the following, the top, middle and bottom of the Oxford analysis are seen from 2013:
Almost 100% ensure…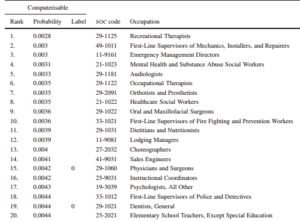 50 / 50 risk of automation ...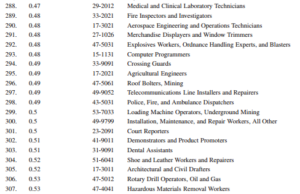 Almost 100% secure automation ...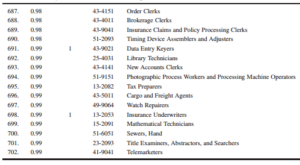 Which industries are most threatened?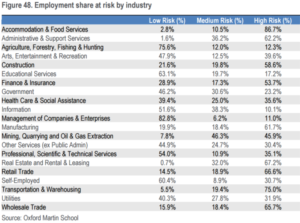 The table above is off Oxford University's 2015 report and gives an overview of what the risk of elimination of jobs is in different industries in the United States. See someone else interactive statement from McKinsey here.
Which countries are most threatened?
The composition of industries differs from country to country. Where 47% Of the US jobs expected to be replaced by robotics and software within 10-20 years, the World Bank's average estimate for the OECD is 57%.
For the developing economies, which, due to low wages compared to the rich countries, have attracted Western companies, not least in the manufacturing sector, largely in the past 20 years, it looks even worse. In the globalized competition, automation technology will push home-based businesses to the detriment of labor - enhanced by cheaper robotics, rising wages and faster repayment of investment in automation. In addition, automation and development of 3D printing will make it increasingly attractive to Western companies to move production back to their home country. A development that impedes the catch-up process of developing economies.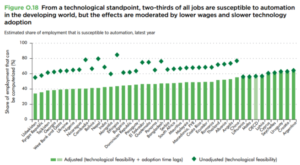 Source: World Development Report 2016

Source: Oxford / Citigroup
The average lifespan of a company listed in the S&P 500 index of leading US companies has decreased by more than 50 years in the last century, from 67 years in the 1920s to just 15 years today.

Richard Foster, Yale University, X
Wages' share of GDP has fallen
Financial statistics say that the technological revolution in the digital age is already in full swing and has left its mark. Wages' share of US GDP has fallen since the 1980s. Admittedly, something was acquired in the 1990s, but the decline continued after 2000 and has accelerated since the financial crisis and recession in 2008-09. The proportion is now at the lowest level since the middle of the 20. century, The Atlantic wrote in 2015. A similar development has been found in many other countries. Median real wages have stagnated in half of the OECD countries since 2000.
Among the theories that explain the development is globalization and the weakened negotiating position for the labor force. But it's not the whole story. Two researchers at the University of Chicago estimated in 2013that 42 out of 59 countries has seen a fall in the wage share of GDP - a trend also seen in less developed countries like China. The researchers concluded that half of the decrease was attributable to falling relative prices of capital goods, driven by computer technologies - and this has led businesses to replace manual labor with automation.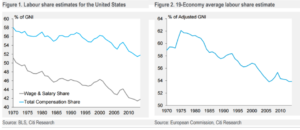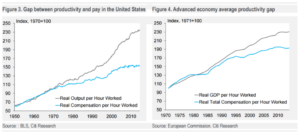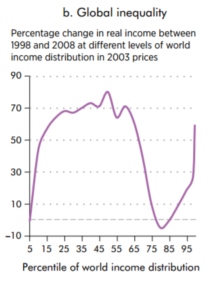 Source: World Bank
The technological development is thus meant to create greater inequality. Fewer hands do more in the digital age's winning companies. The latest figures from October 2016 also say that the world's five largest companies, measured by market value, are now:
Apple, Alphabet (Google), Microsoft, Amazon, Facebook. Together, the five companies employ about NUMBER of people. Not many considering the importance of these new companies and their associated technologies.
A study by Jeffery Lin indicates that where 8,2 pct. of the US workforce through the 1980s switched to new jobs associated with new technologies, then this figure had fallen to 4,4%. in the 1990s. And the researchers Thor Berger and Carl Benedikt Frey, Oxford University, find that less than half a percent of the US workforce shifted jobs into technology industries that emerged through the 00s.
The Oxford study from 2015 points out that it is cause for concern that we have entered an era where innovations cater to the few ahead of the many. Consumers, of course, benefit from the innovations, and many things on the Internet are, for example, free or very cheap, as are many electronic innovations.
But the digital revolution is different from the industrial one. In the Industrial Revolution, mass production meant a great demand for labor, which created a self-reinforcing dynamism in society, while a large number of technological breakthroughs from electricity and cars to washing machines and TV kept their entry. There was a need for a broad-based labor force and it created revenue and purchasing power and founded the middle class. There was a need for both physical labor and physical goods.
This is not the case in the digital age, where everything that can be digitized can be made in countless copies for virtually no money and sent immediately across the world. Jeremy Rifkin, the man who wrote The End Of Work in 1995, have some interesting suggestions on what that development leads to in the book The Zero Marginal Cost Society. Here are his main points and expectations:
The success formula of capitalism - competition, dynamics, new ideas, higher productivity, bring down marginal costs and enable companies to lower the price of goods and services to win customers and market shares - now becomes its death.

There are huge amounts of free and valuable information online.

The Internet of Things has the potential to push large parts of the economic life to marginal costs close to zero in the coming years.
Billions of sensors will monitor everything from ecosystems, natural resources, electricity consumption, and electricity to the flow of recycled products, traffic, and C02 emissions, and will be incorporated into every part of society. They will feed huge amounts of data into a global network. Consumers are created prosumers, producing consumers who can connect to the network and use Big Data, analysis tools and algorithms to dramatically increase efficiency and productivity, thereby reducing the marginal cost of producing and sharing a wide range of goods and services close to zero - just as they already have do with information goods.

The large drop in marginal costs will create a hybrid economy - partly capitalism, and partly a large cooperating community with far-reaching consequences for society. Hundreds of millions of people are already busy transferring parts of their financial lives to this global community. Prosumers is logged on to the Internet of Things and makes and shares their own information, entertainment, green energy and 3D-printed products. They share cars, homes, clothing and other things through social networks, rental agencies, recycled shops and communities. Socially oriented entrepreneurs skip the banking system and raise capital through crowdsourcing. Millions of students use free university courses online (MOOCs), offered by the world's leading universities.

Social capital becomes as important as financial capital, ownership trampled by sharing, lease or exchange schemes.

Sustainability overshadows consumerism, cooperation outperforms competition.

Trade value on the capitalist marketplace will increasingly be replaced by "divisible value" in the global community.

All energy will be green, locally produced and no longer be an economic restriction. In practice, this, in combination with 3D printing, nanotechnology, artificial intelligence and other technologies, means that without environmental damage and greater costs, we can create abundance of most things we need, including food.
It sounds fascinating but perhaps also adjacent to utopian. You can think what you want, but Rifkin simply extrapolates current trends and trends and it is not just thought-provoking but also has a great deal of truth in itself, which you cannot simply reject. There is an ongoing trend that pushes prices and challenges business models in all sectors. The marginal cost - the cost of producing an extra unit when the fixed costs are paid - is zero or very close in many digital contexts. And that development has only just begun. And that clarifies the paradox of capitalism, as Rifkin points out. Of course, companies are always trying to produce goods and services in the most efficient way in a fierce competition, and so they always demand the latest technology to help that front. And then we are about to reach a point where it is better to have machines, artificial intelligence, algorithms and robots to do the work for people. After all, the problem is so obvious that it eliminates jobs - and consumers without income can not survive.
Therefore, Rifkin also argues that a basic income must be guaranteed for everyone.
Basic Income is not a utopia, it's a practical business plan for the next step on the human journey.

Jeremy Rifkin
A lawful citizen's salary is not Rifkin's invention. Among other things. Milton Friedman has proposed it many years ago in the form of a negative income tax. Others have made similar proposals in different versions and called it guaranteed basic income, Universal Basic Income and Unconditional Basic Income. Where the latter may be the best term, it is not about transfer income in the traditional sense, but about a citizen-secured income without conditions.
In Switzerland, there was a referendum on basic income this summer, but it was rejected by a large majority. But the idea is emerging in other countries. In Finland you introduce an experiment with it in 2017-18, and in Utrecht in the Netherlands (only for people already on transfer income) and Kenya There are already similar initiatives in progress.
It is not the first experiments of this kind. One of the most famous basic-income experiments took place in the Canadian city of Dauphin in Canada at 1974X. The Mincome Program provided all citizens with an amount depending on their income. The economist Evelyn L. Forget wrote in 1979 a report on it, The town with no povertyin which she concluded that basic income reduced the city's poverty and eased several other problems.
In recent times it is one experiment in Indiawho has aroused attention. And, as in Dauphin, conclude that it has positive effects. People do not solder the money. The basic income, on the other hand, makes people more risky in relation to entrepreneurship, creates more economic activity and has a number of other beneficial effects.
Adair Turner: Capitalism is at a turning point
Adair Turner, former head of the UK Financial Supervisory Authority and today chairman of George Soros' think tank Institute for New Economic Thinking, also included basic income recently in one Comment on Business Insiderwhere he assumes that businesses like Facebook, Uber and Airbnb send huge prosperity in the hands of few and create fewer jobs than in previous technological breakthroughs.
"I think we're at the beginning of understanding what deep things this [technological change] does. One of the things is it seems to be a driver of quality. This information and communication technology enables huge wealth creation with very little investment for some categories of people in the economy and creates jobs that are very low pay for others.
Turner believes that this technology-driven inequality has contributed to Brexit and the choice of Trump. He believes that we are at a turning point in the nature of capitalism, and it will be essential to find solutions to the problems that come with the new technological economy - not just to repair global confidence in capitalism but also to repair it itself global economy.
Demographics versus automation
In the early summer, the chief editor-in-chief of Berlingske Tidende, Lisbeth Knudsen, wrote in a leader that Europe, as a result of the demographic development in the next few years, needs an immigration of DKK Xm. people. Apparently, she just made the mistake that both media and politicians typically make - they separate aging populations and technological development as two separate challenges. But of course they must be seen in a context (like many other global problems).
If one is to take on the optimistic glasses, then the timing of the technological revolution could not be better in relation to the demographic development. The workforce (15-64 years) peaked in 2011 in the industrialized countries according to UN data by 388 million. people and is expected to fall by 30 million forward to 2030. In Japan, the workforce already peaked in 1995, in Germany 1998 while the US is expected to reach the peak in 2026.
Automation will be able to meet the problem of shrinking workforce - but automation will still pose challenges with insufficient numbers of jobs.
As an example, the report mentions Japan â € "the country with the world's already oldest population, who in 2050 will have 1,3 at work per pensioner. In 2030, the workforce will be shrunk compared to today 7,9 million. people to about XNUM million But the number of jobs will drop by much more. A report by Nomura - using the same methodology as Oxford University - estimates that 55,6% of Japanese jobs (ie. 27 million jobs) will be automated within 10-NUMBER years. Although new jobs will be created along the way, it will most likely not be enough to avoid technological unemployment.
In other words, automation constitutes a greater risk of jobs than shrinking workforces can offset. This is an important detail to consider when considering the migration wave, where the majority have low or no education. As the Rockwool Foundation has pointed out to Denmark, immigrants from non-Western countries such as Turkey, Somalia, Iran, Iraq and Lebanon constitute a large net expense from the state in the long term as a result of a low employment rate. . Other studies confirm the same trend in other countries. By contrast, immigration from other EU countries and countries such as Norway, the USA and Canada provides a net income.
We are only halfway on the chessboard
We are still in a phase where it may be difficult to see that technology should make many of us available. Self-propelled lawnmowers and vacuum cleaners have not impressed, self-driving cars go wrong, the forces of violence are still not resolved, and the Internet of Things got a serious shot for the hacker attack in the United States recently, where the hackers took this unprotected entrance (why was it a surprise?) and 40 million users had to do without the Internet. Where are the really great inventions? The really big breakthroughs?
They are on their way, assures MIT economists Erik Brynjolfsson and and Andrew McAfee, authors for The Second Machine Age. They point to other scientists that we are in an exponential development, where it does not seem so much in the beginning and reminds of declining a linear, slower and predictable development. But the development is just exponential, and that kind of has to surprise. The two authors refer to the ancient anecdote about the invention of chess to illustrate exponential development.
Chess was invented by a very wise man in India in the sixth century. He presented the emperor for his invention, which became enthusiastic and asked the man what he wanted in reward.
â € œPlace one single grain of rice on the first square of the board, two on the second, four on the third, and so on, the inventor proposed, â € œso that each square receives twice as many grains as the previous .Make it so, the emperor replied, impressed by the inventor's apparent modesty.
In some versions, the emperor carries the head of the inventor as he finds out how much rice is involved. Alone on field No. 64 there will be 9.223.372.036.854.775.808 rice grains â € "more than two billion times as much as on the first half of the chessboard. And in all, a rice mountain larger than Mount Everest - more rice than is produced in history, the two researchers write.
They use the anecdote to show that we can be said to be on the first half of the chessboard. For the sake of fun, they start from Moore's Law and 1958, where the world's first integrated circuit was invented. Based on a doubling every 18. month, the first half of the chessboard was filled in 2006. There is a long way to go. And the growth continues beyond the chessboard â € "although Mooreâ € ™ s Law has already reached a physical ceiling, computer power must be improved with new technologies.
conclusion
It is quicker to bring innovations to the market, and our connectivity via the Internet and globalization is huge. Never before have we had such a tremendous platform for the exchange of knowledge, ideas and innovations and together with the enormous value that lies in digitization and increasingly computer power is the factor that contributes to accelerating the technological and scientific development violently. And one can be sure of one thing:
If we enter into a new economic crisis, it will accelerate business investment in software and robotics that can provide savings and efficiency in the fierce competition - and that will cost jobs.
The positive thing is that this scientific / technological golden age is coming, because there are enough challenges to tackle in this century. Global warming, which according to CARE in a new report already in 2015 has sent nearly twice as many on the run as people fleeing from war and conflict. The water crisis - not just in developing countries, where XNUM billion. lacks access to clean water, but also increasingly the developed world where we use too much water. Food crisis - in 1,1, the world needs 2050 pct. more food. Colossal pollution and destruction of ecosystems that only occasionally appear in the media and far from the politicians' consciousness. Global inequality and migration waves, which even the highest walls will not be able to slow down if no conflict of war is resolved, and the countries themselves with much more intensive Western aid in Marshall / Apollo style develop stable governance, institutions and emerging economies.
Just take Africa. In contrast to the Asian countries, the African people are lagging far behind and this development is not corrected, even the tallest walls could not condemn an African migration wave, as the African population is estimated to grow by XNUM billion. . forward to 1,2.
And then there is an EU in crisis. The free movement of labor among EU countries has not surprisingly had the effect that it is the poorer Eastern European workers who are looking for Western Europe â € "not vice versa â €" and thus contribute to Increasing dissatisfied populations who also feel pressured by globalization, immigration, shrinking well-being and an everyday remote political elite.
On top of that comes the technological unemployment that begins to draw on the horizon. New jobs will be created along the way, hopefully supported by more dynamic and forward-looking educational institutions and continuous training of the workforce in the companies. And the transition to a circular, green, sustainable economy will be able to create millions of jobs. But it is hardly enough to be able to follow the exponentially growing technological developments.
But is it so bad?
A global Gallup study in 2013 suggests that most people would consider it a blessing if they were left to work or at least for reduced working hours. Only 13% Of the respondents from more than 140 countries were engaged in their jobs and focused on making the company better.
63 pct. was not committed or simply unmotivated and did not want to make an extra effort - while remaining 24% was â € œactively uninvolvedâ € or really unhappy and unproductive.
But what is it we really want? Perhaps this can best be illustrated by an imaginary example. You live on a large island where you and your family are only there. It is a fairly wise family, so you have invented robots and everything that takes care of all the traditional work. You have everything you need and in principle have unlimited leisure time. Would you like to abolish the technology and insist on doing all the work yourself? Of course not. But you would find something to do. You wanted to make fun, do something creative, be curious and… well what? What do you want to do when you get everything you need and can do what you want? What's the meaning of life?
The example or Jeremy Rifkin's vision sounds like utopian society, but no more utopian than that robots and artificial intelligence will take power from us and destroy humanity, as Stephen Hawking and others warn.
In any case - if technological development creates the chronic unemployment and lack of traditional jobs that many reports warn, it requires a new version of capitalism and the structure of society if we are to achieve stable societies.
We should really see the world as one big family! Did it succeed? Are we going to get bored? Do we feel worthless? Are we getting closer to the meaning of life? A rebirth of the human spirit, which Rifkin talks about?
It could be fantastic with a world where everyone has enough, and you do what you want, while robots take all that boring and dangerous. It probably takes some time before we get there. And maybe we end up in ragnarok. But if we now play with the thought and look forward to 100 years. If we actually survive, solve the inequality and environmental problems and create stable societies. So it's hard to imagine a world with work weeks at 35-40 hours, where most of us have jobs we don't like and the overall goal - which today - is just to produce more and more of everything in an eternal competition and the destruction of the planet.
Paradise is waiting ahead!
If you find this article interesting, finally add it to your network! Let's get a debate started.
Contact meif you need my assistance in your business. I work with communication, research, analysis and business and idea development for companies in the digital age.
Read more articles on my blog. Or sign up here and get an ongoing update.