Experts from the Imperial College COVID-19 Response Team indicate by model calculations that between 7 and 43 million in 11 European countries have been infected with SARS-CoV-2 until 28 March. Up to 180.000 Danes can be infected. The prevalence of infection decreases as a result of the many interventions, but it also means that we are very far from herd immunity.
The Imperial College COVID-19 Response Team, which got the British government out of the starting blocks with a dismal report March 16, is still in full swing. IN 12 report from 26 March the importance of interventions was identified:
"We estimate that in the absence of interventions, COVID-19 would have resulted in 7.0 billion infections and 40 million deaths globally this year."
On March 30, Report 13 was published. It takes a closer look at 11 European countries and concludes:
"With current interventions remaining in place for at least the end of March, we estimate that interventions across all 11 countries will have averted 59,000 deaths up to March 31 [95% credible range 21,000-120,000]. Many more deaths will be averted by ensuring that interventions remain in place until transmission drops to low levels. We estimate that across all 11 countries between 7 and 43 million individuals have been infected with SARS-CoV-2 up to 28th March, representing between 1.88% and 11.43% of the population. "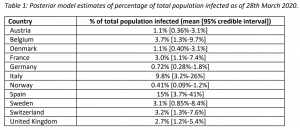 Source: Imperial College COVID-19 Response Team, Report 13.
As the table shows, it looks really bad for Spain, where 15% of the population, equivalent to 7 million. (95% confidence interval 1,8-19 million), the infection is indicated according to the model estimates. In the case of Denmark, the figure is 1,1%, 64.300 people (95% confidence interval 23.320-180.730). For Sweden, which has been reluctant to intervene, the figure is 3,1%. Ie. over 300.000 of the population of just over 10 million. And at the high end of the confidence interval the figure is over 800.000.
The other day you could read on TV2 that Sweden has a natural advantage in the fight against coronavirus compared to Denmark, because the country is 10 times as large and thus the population density is much smaller. It is wrong. The Swedes do not live evenly distributed in the country in mountains and deep forests. According to the Swedish Statistics Office, 8,9 million people lived. people at the end of 2018 in Sweden in urban areas, corresponding to 87 per cent. of the population - which roughly corresponds to how we clump together in Denmark. The Swedes have something in store.
The report emphasizes that interventions have had a great impact, but also that the prevalence of infection is greatly underestimated and therefore it will increase rapidly if countries' interventions are stopped. European populations are nowhere near herd immunity.
"We estimate that there have been many more infections than are currently reported. The high level of under-ascertainment of infections that we estimate here is likely due to the focus on testing in hospital settings rather than in the community. Despite this, only a small minority of individuals in each country have been infected, with an average attack rate of 4.9% [1.9% -11%] with considerable variation between countries (Table 1). Our estimates imply that the populations in Europe are not close to herd immunity (~ 50-75% if R0 is 2-4). Further, with Rt values ​​dropping substantially, the rate of acquisition of herd immunity will slow down rapidly. This implies that the virus will be able to spread rapidly should interventions be lifted. Such estimates of the attack rate to date urgently need to be validated by newly developed antibody tests in representative population surveys, once these become available. "
So the bottom line is that securing a high herd immunity will be a long and tough move. The economies will not work as they usually do, and we must be careful in our dealings with each other so that the infection does not run smoothly.
One obvious question, of course, is what mortality is. As Financial Times described yesterday, then the mortality rate for seasonal flu is 0,1 per cent. in high-income countries. According to the same article, the global death rate on Sunday - defined as the proportion of people who tested positive for the coronavirus and died - 4,7 per cent. For the latest updates is the corresponding Danish figure 2,74 per cent. However, if the infection is far more prevalent and we do not see a wave of seriously ill, then it indicates that the risk of dying from the disease COVID-19 caused by the SARS-CoV-2 virus is far lower.
There are widely differing estimates of death rates from different countries, and it depends on age composition, the amount of tests and other things that add to the uncertainty. Eg. COVID-19 in Italy, which has the world's second-oldest population, is listed as the cause of death, even if a patient was already ill and died of a combination of diseases. Mike Ryan, executive director of the WHO health emergencies program, told Italy's health minister last week:
"Only 12 per cent of death certificates have shown a direct causality from coronavirus."
So one big question that arises is how many deaths would have happened anyway if the patients had not had the COVID-19 disease.
Here is interesting to note the statements of Professor Neil Ferguson, at the head of the Imperial College COVID-19 Response Team, from a parliamentary hearing last week:
Speaking at a parliamentary hearing last week, Professor Neil Ferguson, director of the MRC Center for Global Infectious Disease Analysis at Imperial College London, said it was not yet clear how many "excess deaths" caused by coronavirus there would be in the UK. However, He said the proportion of Covid-19 victims who would have died anyway could be "as many as half or two-thirds, "Writes the Financial Times.
All this does not mean that we should just let go and release the pandemic. We must keep it in check with various restrictions and in time achieve herd immunity. But the financial cost must not go beyond future investments in healthcare. In other words, it could be appropriate for the political parties to reach an agreement on obligations to ensure a high standard in the Danish healthcare system in the future. Alternatively, we run the risk of gaps in solidarity.