Shortly before the World Cup 2018 World Cup started, scientists, banks, game producers and artificial intelligence experts (AI) came up with bids on who wins this time.
The traditional favorites dominate. Of course. Surprises cannot be predicted.
Scientists: Spain wins
A group of researchers at TU Dortmund, TU Munich and Ghent University of Belgium have used artificial intelligence to simulate the tournament's outcome 100.000 times. Machine learning was used based on several factors such as FIFA rankings, each country's population and GDP, bookmaker odds, how many players are playing in the same club, the average age, and how many Champions Leagues they have won.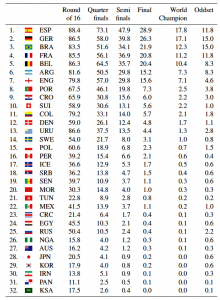 EA Sports: France wins
Game manufacturer who produces the very popular football game FIFA, are experts in football statistics and constantly updated valuation of the individual player's abilities. Perhaps that is why EA Sports actually hit their guess at the winner of the two previous World Cups. Spain in 2010 and Germany in 2014.
This time, the prediction is that Germany beats Spain in the semi-final, while France sends Belgium out. In the final wins France over Germany after penalty shootout.
Unanimous AI: Germany wins
This tech company in San Francisco works with artificial intelligence and has previously predicted Super Bowl "right down to the exact final score".
"These predictions were generated using swarm AI technology," Louis Rosenberg, founder and CEO of Unanimous AI, told Digital Trends. "This means it uses a unique combination of human insights and artificial intelligence algorithms, resulting in a system that is smarter than the humans or the machines could be on their own. It works by connecting a group of people over the internet using AI algorithms, enabling them to think together as a system, and converging upon predictions that are the optimized combination of their individual knowledge, wisdom, instincts, and intuitions. "
Company calculations shows that Germany has the greatest chance of grabbing the trophy.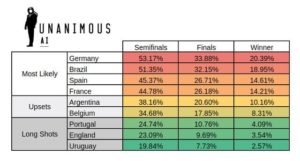 UBS: Germany wins
Statistical modeling and 10.000 Monte Carlo simulations in the Swiss bank point to Germany winning with 24%. probability with Brazil and Spain in the next places. How England ended up in fourth place, the gods must know.
UBS's predictions is in line with most major bookmakers who have Germany, Brazil and Spain among the biggest favorites.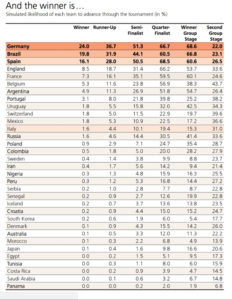 Goldman Sachs: Brazil wins
Where UBS has used more normal statistical modeling, then Goldman Sachs used artificial intelligence. The Investment Bank used machine learning to run 200.000 models to discard specific match results and then simulate over 1 million possible variations of the tournament to calculate probabilities for each team's success. Brazil wins over Germany in the final.

ING: Spain wins
The Dutch bank's calculations are based on the market value of a team's players and past performance and assume that a team's value and success are closely correlated sizes.
The calculations show that Spain wins (the team's market value 1,04 billion) closely pursued by France (market value 1,03 billion).
Nomura: France beats Spain in the final
The Japanese Investment Bank uses the same techniques it would use to calculate balanced risks for investors. With the bank's own words:
"Being analysts, we have to apply some rigor to our World Cup predictions, so we've decided to apply portfolio theory and the efficient markets hypothesis to the World Cup. We look at the value of players in each team, the momentum or team performance and historical performance to arrive at three portfolios of teams to watch.
The results indicate that France, Spain and Brazil have the greatest chances of reaching the semi-finals. The bank predicts that Spain and France meet each other in the final - and France wins.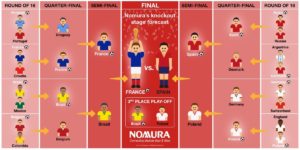 Which country do you think will win the World Cup in 2018?